The project "Integrated AI in Education at the University of Stuttgart" (IKILeUS), funded by the Federal Ministry of Education and Research (BMBF), aims to provide students of all fields of study an understanding of artificial intelligence and practical experience with AI in an interdisciplinary and sustainable way. At the same time AI-based technologies are introduced that can improve teaching.
In order to achieve this goal, the interdisciplinary AI expertise from across the whole university will be brought together to create and sustainably roll out interlocking and coordinated education offers, materials for courses and concrete innovative AI solutions for the problems identified in the individual disciplines.
As part of this project, the Institute for Entrepreneurship and Innovation Research (ENI) and the Institute for Software Engineering (ISTE) are collaborating on the introduction of an interdisciplinary key qualification (FüSQ) "AI Prototyping 101: From Idea to Reality", which will be offered (in English) every summer semester, starting in 2023 and is designed for all students in all study programs at the University of Stuttgart. The basic idea of the course is to build a prototype to creatively solve a given challenge by using AI tools.
This is accomplished by introducing students to the basics of artificial intelligence and familiarizing them with the AIapplication tools provided before they begin developing their own solutions. For the development of a functional software or hardware prototype, the environment of a university makerspace is used.
Contact person in the project: Dr. Brigitte Schönberger.
Contact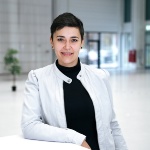 Brigitte Schönberger
Dr. sc. agr.
Postdoc / Diversity-Officer